ISO 37001 – Anti-bribery management systems
Bribery is one of the world's most destructive and challenging issues. With over US$ 1 trillion paid in bribes each year*, the consequences are catastrophic, reducing quality of life, increasing poverty and eroding public trust.
Yet despite efforts on national and international levels to tackle bribery, it remains a significant issue. Recognizing this, ISO is currently developing a new standard to help organizations fight bribery and promote an ethical business culture.
The future ISO 37001, Anti-bribery management systems, specifies a series of measures to help organizations prevent, detect and address bribery. These include adopting an anti-bribery policy, appointing a person to oversee anti-bribery compliance, training, risk assessments and due diligence on projects and business associates, implementing financial and commercial controls, and instituting reporting and investigation procedures.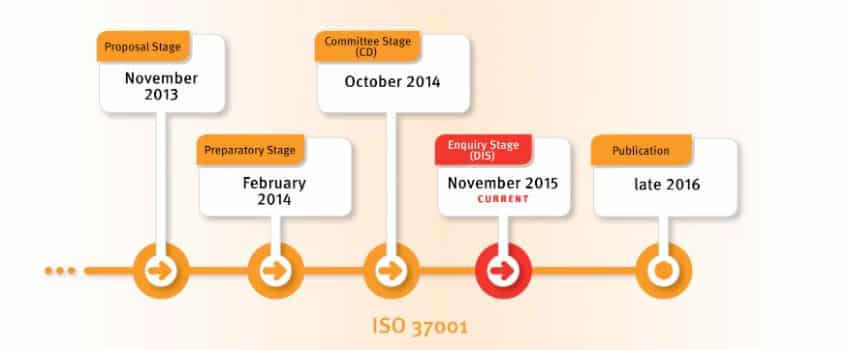 Who is it for?
ISO 37001 can be used by any organization, large or small, whether it be in the public, private or voluntary sector, and in any country. It is a flexible tool, which can be adapted according to the size and nature of the organization and the bribery risk it faces.
When will it be available?
The draft will be available through your local ISO member once it reaches the public enquiry (DIS) stage, before the standard is published around late 2016. Learn more about the stages of standards development.
Where can I find out more?
You will also find an overview of ISO 37001 in this FAQ and this PowerPoint presentation.
See a list of countries participating in the standard's development
*source: OECD
https://www.globalbpa.com/wp-content/uploads/2016/01/worldwide-map.jpg
464
900
Elodie.bergeR
https://www.globalbpa.com/wp-content/uploads/2018/07/BPA-logo.png
Elodie.bergeR
2016-01-18 11:33:07
2018-07-17 11:58:52
ISO 37001 - Anti-bribery management systems